Photo from Photo Bucket
here.
I finally went to see New Moon last night, much to my delight my husband took me and we even got the premier seats, we did go to the 5.30pm showing, the queue for the later one was crazy but it was ok when we went thankfully. We also bumped into our friend's R and E (a couple) in the screen, we hadn't even spoke to each other about seeing it, it was cool.
I am completely Team Jacob now after seeing that film, I just wish they hadn't cut his hair off which is kinda funny because i've always said that any man with long hair would look better with short hair. There are a few men that are exceptions of course, and Jacob is definitely one of them! Wow when he takes his top off and uses it to wipe the blood off Bella's head I thought I was going to faint, my god that's one helluva man. Ok I know he's only like 17 or something and I'm at least 10 years older than him which makes me feel a little bit dirty for fancying (is that even a word) the pants off of him, but hell, I'm never gonna meet him am I so I guess it doesn't matter.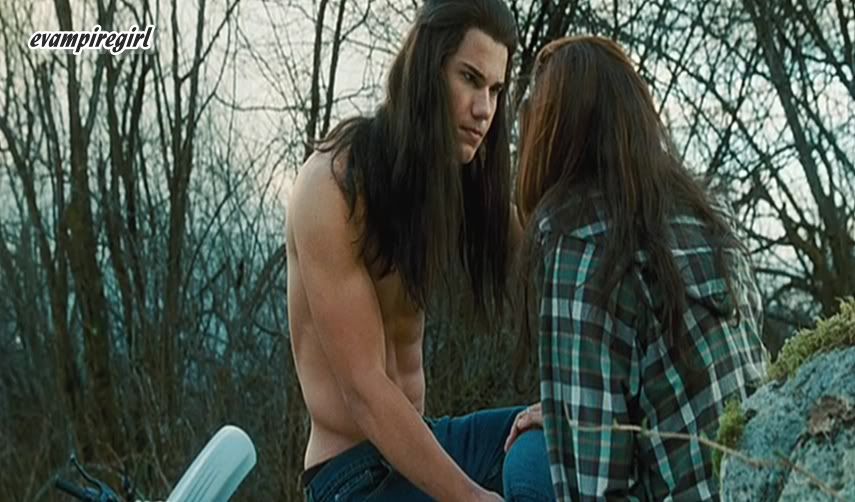 Photo from Photo Bucket
here.
The character of Edward is such a miserable guy, while Jacob reminds me more of my husband, except hubby's not so muscular, Jacob is a guy who has a laugh and doesn't just mope around the whole film. If the character's were real people Edward would be the toxic boyfriend you get obsessed and then get over before realising that he was no good for you. Then you meet a guy like Jacob and he's the one you would marry, even without the muscles or looks, just for his personality!
I have to say that even without scenes with Jacob topless I did enjoy the film immensely. Hubby really liked the first film but didn't like this one at all neither did R, but being blokes I'm not that surprised. I got a full-on rant about that film when we got home. E and I both enjoyed it.
Now I really want to read the 3rd book to see what happens next, but I know I'll enjoy the film more if I don't know what's going to happen. I wasn't going to even watch the first film at all, but after everyone was raving about it I thought I should so we got the DVD (yes I waited THAT long!), I fell in love with it completely and couldn't wait for New Moon to come out. I really want Bella and Jacob to be together at the end, but please don't tell me what's going to happen because I like to be surprised, and that is the only reason I haven't read the books yet, I absolutely LOVE reading! Now we have to wait a whole year for the next film, and I really don't know if I can wait that long!